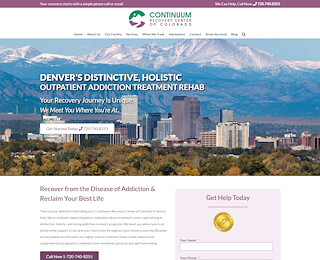 The fascination with drugs and psychoactive substances has followed us through the ages with often dramatic effects. Today, the same attraction seems to surround these agents of pleasure and death, which keeps attracting more and more people into their whirling spiral of doom. And breaking myths is what we, at Continuum Recovery Center of Colorado do, among other things.
The programs dealing with drug rehab Denver stand proof that what lies beyond this fascination is only death, disguised as temporary pleasure. In reality, all drugs are poisons. All they need is time to build-up towards a deadly effect. But how exactly do drugs function?
There are several steps they go through, once inside the organism:
- The substance reaches the opioid receptors in the brain and bind to them almost immediately
- Dopamine is being released, sometimes up to 10 times more than what brain would produce on regular occasions, like having sex, eating good food or doing anything that causes pleasure
- What results is euphoria, pain numbness, slow breathing and reduced muscular reflexes, along with a feeling of intense relaxation and calmness
- The brain will translate the act of taking drugs as a positive experience, since it causes feelings associated with increased well-being and, as a result, will instruct the individual to replicate the drug-taking behavior
- Soon, the brain will develop tolerance to the narcotic, requiring more to deliver the same level of dopamine
- Physical and psychological side-effects will begin to show, including organ failure, heart and brain damages, confusion, paranoia, seizures and even coma and death
- Uncontrolled, substance abuse will turn into addiction which will eventually lead to overdosing
These are all aspects that every program of drug rehab Denver is focusing on when it comes to countering the effect of the opioids on the organism.
Why addiction is so hard to combat
Many people believe that entering the rehabilitation process is enough to help them come clean, overcome their addiction and start life anew. Apparently, that's not how reality works. In reality, around 85% of the addicts will relapse in less than a year after the treatment program has completed, with 20%-24% of them failing while still inside the program.
This goes to show that rehabilitation is less a process of medical healing and more one of personal development. Using medication to overcome the physical and physiological symptoms caused by withdrawal is just the first stage and, in the long run, the most insignificant. The real value lies in teaching the individual how to better himself, overcome his behavioral tendencies, acquire a new set of mental and spiritual skills and learn how to be a functioning part of society once more.
It is a hard and long process which usually lasts for a lifetime, and it all starts with that one 30 to 90 days program of drug rehab Denver. The Continuum Recovery Center of Colorado represents a milestone in the battle against substance abuse and addiction. One that can only be won via complete dedication, both from our part and from our patients.
Drug Rehab Denver