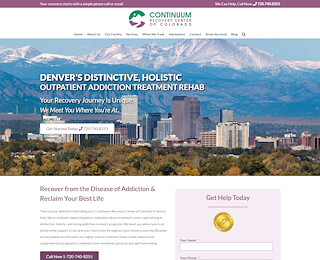 We all know illicit drugs are harmful, because, after all, that is why they have been deemed illegal in the first place. People still consume and abuse them, and that makes you wonder why. Why don't we stop feeding the drug black-market with over $300 billion every year and why would we choose to consciously engage in a behavior that does us so much harm? Here, at the Continuum Recovery Center of Colorado, we know that there is one answer to these questions: because of the lack of education.
This is why any drug rehab in Denver is set to not only help people overcome their addictions, but also educate them on the subject. A lot of the patients are teenagers and young adults, showing that there is a drug epidemic of some sort among their ranks. But why are they more predisposed than others?
Several studies, including one in 2013, conducted by the Public Health Institute of Canton Sarajevo, in collaboration with the Faculty of Medicine, Sarajevo University and the Faculty of Health Sciences, University of Zenica, showed that among the most common causes driving young adults to drug abuse include:
- Family problems – Either the result of a rough childhood, with abusive parents, where the parents were drug abusers as well, or one lacking emotional attachment, proper education and so on.
- Entourage pressures – They may want to become involved with specific groups, causing them to try out the drugs due to the psychological demand, or even out of curiosity, stressful situations or by force in some cases
- Biological and psychological factors – One problem every program of drug rehab in Denver has to deal with regularly is that many patients resort to drug abuse to either control the manifestations of specific diseases or mental affections or because they fall prey to anxiety or depression because of those affections
In the end, however, regardless of the causes, the outcome is almost always the same: they become addicts, trapped in a vicious circle of drug abuse, side-effects, severe withdrawal symptoms and relapse whenever they attempt at breaking the circle.
The best rehabilitation program
Unfortunately, there is no such thing as the perfect rehabilitation program, with 100% efficiency. Addiction is complicated, and it can affect an individual's well-being on multiple levels, including social, psychological and behavioral. This is why it takes more to deliver efficient results than sticking to medication.
Although medication does play an essential part in the process, it is also extremely important to help the patient realize his condition, the harm that's been done and educate him on the lethal dangers of drug abuse. Another key aspect is to help addicts develop specific sets of skills and mental attitudes to learn how to contain their urges, in case they will ever return.
The programs of drug rehab in Denver are focusing mainly on helping the addicts' understand, adapt and take control over their lives. A goal which we, at the Continuum Recovery Center of Colorado, proudly push forward every day, with the same commitment and dedication as ever.
Drug Rehab In Denver