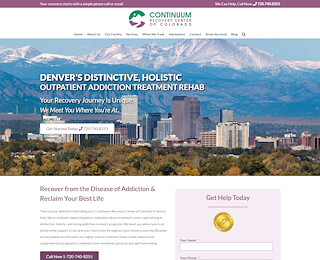 Most of today's problems in our societies are being fueled by one simple factor: the lack of education. A factor which, perhaps paradoxically, it is both easy to detect and challenging to overcome. We have been trying to do it since forever, and it always seems like we are more or less in the same position we were before, not a step closer to our objective. And here, at the Continuum Recovery Center of Colorado, we see the effects of lousy education every day.
Every drug treatment in Denver focuses on reversing the damages caused by drug addiction and, in the majority of the cases, the solutions are only temporary. There is no permanent solution to drug addiction because there is no such thing as a perfect treatment. According to the most recent studies on the topic, relapse is a significant problem for over 85% of the addicts, who tend to resume their addictive behavior in less than a year after the rehab treatment has been finalized.
Even more, about 66% of them will fail to withstand even several weeks or months without retaking the substance. They will relapse while the rehab program is still in full effect. And, on long-term, some patients will often fall into the same hole of drug abuse, no matter how intense and exhaustive the rehab treatment might have seemed to be.
What are the best approaches?
Putting together an optimal drug treatment in Denver first requires a deep understanding of what caused the problem in the first place. Sometimes the causes are apparent, otherwise not so much. This is why, for a rehabilitation program to become as effective as possible, specific approaches are required, like:
1. Understanding and treating the patient's emotional trauma
More often than not, there are specific emotional traumas at play which trigger the addictive behavior. These include childhood abuse, parents abusing drugs or alcohol, lack of parental education and many more. And treating the addiction without addressing these issues means failing the program from the start.
2. Analyzing and correcting the patient's behavioral problems
Such problems would refer to the addict's inability to interact with other people, to more aggressive behavior at times, along with the apparent lack of self-control and so on. Left untreated, these problems will prevent the society from accepting the individual as a healthy, functional, trustworthy member.
3. Adjusting the patient's image about himself
Many drug addicts will grow to become secluded, lacking self-confidence and being unable show optimism, determination or moral strength. These deficiencies will not only prevent them from overcoming their condition but will also stand in the way of their progress with regards to their social reintegration.
What these factors show is that treating the body is nowhere near as important as treating the spirit. In the long term, drug treatment in Denver should try and solve everything that might fuel addiction, every aspect, no matter how insignificant it might seem. At the Continuum Recovery Center of Colorado, that's precisely what we're doing – restoring people's bodies and spirits for them to be able to keep fighting addiction and prevent relapse for the rest of their days and do it on their terms.
Drug Treatment Denver