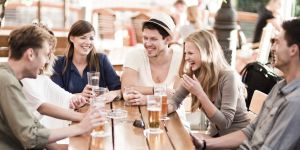 We invite you to Continuum Recovery of Colorado for a well-rounded, life-changing rehab experience! The last thing you would want as a victim of drug addiction is resorting to self-detoxification. Since you're not qualified for the operation, you might end up worsening your condition. Self-medication is often responsible for worsening people's disorders and even for triggering new forms of addictions.
Join our drug rehab in Denver, Colorado, and we'll take care of everything! The system we're using relies on a multi-disciplinary approach divided into three fundamental stages:
Immediate recovery and stabilization
The detox process is one of the urgent tasks that will be set in motion as soon as you arrive at our center. In cases of prolonged and aggravated drug addiction, the victim requires immediate attention and intensive care. To stabilize your condition, our clinicians will devise a personalized medication plan, looking to:
Minimize the cravings
Control the symptoms of the cold-turkey syndrome
Lower the discomfort during the withdrawal phase
Restore your cognitive and emotional functioning
Stabilize the behavior
Address symptoms associated with co-occurring disorders
Detoxify the body
Restore the functionality of the opioid receptors in the brain
Although the detoxification process seems simple enough, it actually requires precision and extensive medical knowledge. For best results, let our team of experts take control of the situation!
Therapeutic support and emotional care
Our therapies are meant to advance the healing process, allowing you to distance yourself from your problems. During our drug rehab in Denver, Colorado, you will participate in a variety of psychotherapies, including DBT, CBT and EMDR, which will:
Address the cognitive and emotional side-effects of co-occurring disorders
Improve social skills
Lower aggression and antisocial tendencies
Promote acceptance and confidence
Address emotional traumas and facilitate spiritual healing, etc.
The benefits are immense, not just short-term, but for years to come as well. Our goal is to help restore your cognitive and emotional functioning so that you can see life through a different lens. With us by your side, the world will soon regain its magic.
Aftercare and relapse prevention
The final stage relies on extensive aftercare and relapse prevention support. This is where you, the patient, will take over. It is now that you will test your willpower and character for years to come. In reality, the essence of the rehabilitation process lies in long-term management. Substance addiction is an incurable disease, which means that the only way to escape it is through prevention and management.
Our relapse prevention strategy relies on a multitude of procedures like:
Family therapy
Substance addiction education
Teaching life skills
Tips on avoiding social triggers
Teaching the essentials of getting a better job and working towards a life-defining career
Support in developing new hobbies and passions, etc.
All these aspects recommend our drug rehab in Denver, Colorado, as one of the most effective rehabilitation treatments in the business. If you need urgent expert assistance, contact us, at Continuum Recovery of Colorado, and let's begin the treatment! Leave your addiction in the past, where it belongs!
Drug Rehab Denver Colorado
Continuum Recovery Center of Colorado
303-339-0420
9725 E Hampden suite #308 Denver, CO 80231
View Larger Map