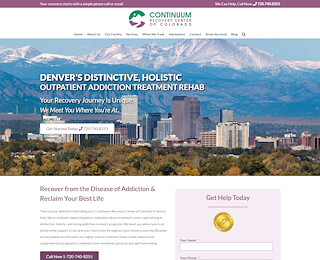 Ever wondered why people would continue to indulge in a habit that's harmful to them, like drug abuse? Of course, you did. We all did before knowing how addiction works and how it affects the body and the mind.
One of our primary goals, the team of specialists working at the Continuum Recovery Center of Colorado, is to raise awareness about three essential aspects:
1. Addiction is not a matter of choice
2. Drugs will eventually kill you
3. The addictive behavior can be treated if approached correctly
An excellent treatment center in Denver would come with a solid rehabilitation schedule, one that would approach all the potential damages narcotics would inflict on an individual. The problem is that many of them could turn permanent, while others can become deadly. With regards to the three aspects mentioned above, they embody everything that's wrong with some of the essential misconceptions regarding drug consumption, drug abuse, and addiction.
Understanding is caring
Drug consumption is a matter of choice, as well as drug abuse is, to a certain degree. Addiction, however, it's not. When the addictive behavior has been triggered, all the victim can do is comply, otherwise risk withdrawal symptoms, which can be, at times quite severe and can last between several days to several weeks to even months on end.
Furthermore, addiction is not the only problem here, the tendency towards overdosing is. Since the brain will adapt to the narcotics, it will require more of the substance for it to release the same effects. And it is this natural tendency that poses the most severe risks to an individual's life, which is why it's one aspect that any treatment center in Denver will treat first. Medication like buprenorphine, methadone, and naltrexone are used to reduce drug craving, diminish the symptoms of withdrawal and prevent relapse, while naloxone is useful when countering an overdose.
These measures are required because, in its more severe stages, addiction is lethal. Not only it will gradually lead to overdosing, but it will also cause:
- Heart problems due to arteries clogging
- Major organs damages
- Incoherent thinking, leading to dangerous situations
- The risk of sudden death, primarily due to either a stroke or a respiratory failure
With these risks in mind, the sooner people will realize the dangers, the more effective the rehab programs will become.
Neutralizing addiction
The rehabilitation process has to focus on several crucial aspects: the withdrawal symptoms, preventing the patient to stop using the drugs, the potential mental disorders that may come with the addictive behavior or which can be aggravated by it, the patient's psychological condition and his relationship with others around him, any potential emotional traumas the addict has been through, including those during childhood and so on.
In the end, only by adopting a thorough and meticulous rehab program in a top treatment center in Denver will the addicts have any chance of recovery. Here, at Continuum Recovery Center of Colorado, people come to shed the old skin of addiction and embrace their new one, as reborn individuals, for whom happiness has suddenly become possible.
Treatment Center Denver